Research Rotation
---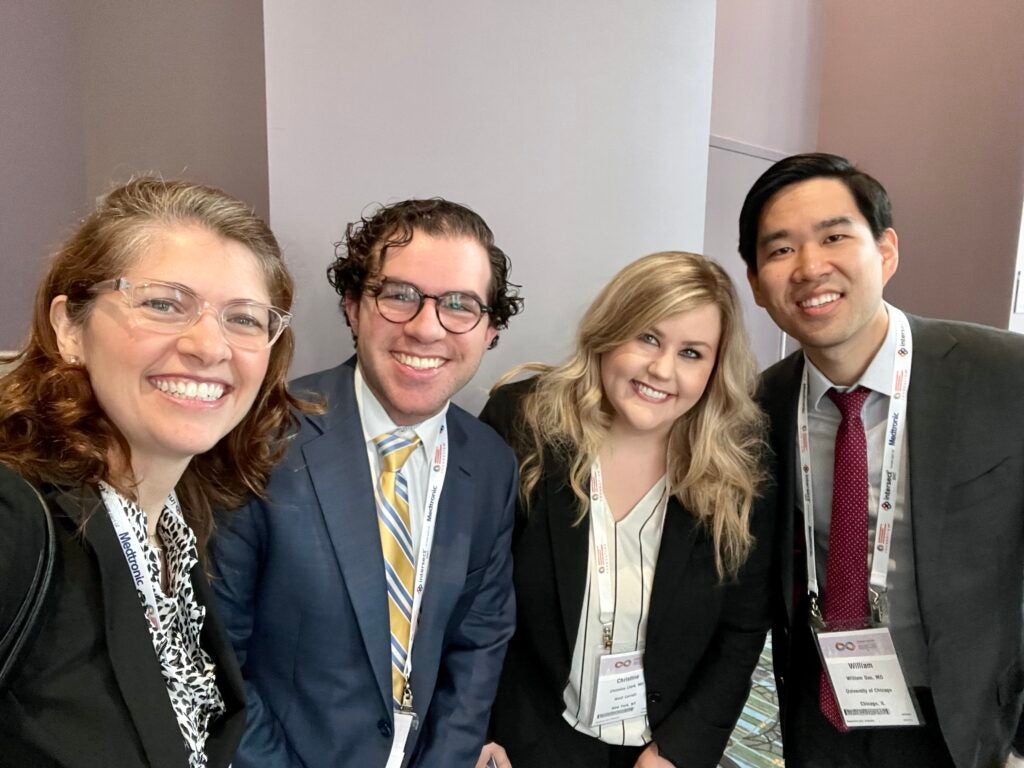 All residents participate in annual scholarly projects during their tenure in the training program and are expected to submit their work for local and national presentations as well as publication. During PG 3 year, a 4-month block dedicated to research where residents are exempt from clinical responsibilities.
Each cohort class engages in a longitudinal quality improvement initiative that spans the five years of training. Residents receive formal education in process improvement methodology and design.
Residents pursue their specific interests and enjoy ample faculty support. In the past, research topics have spanned the breadth of otolaryngology and have included both basic science and clinical endeavors.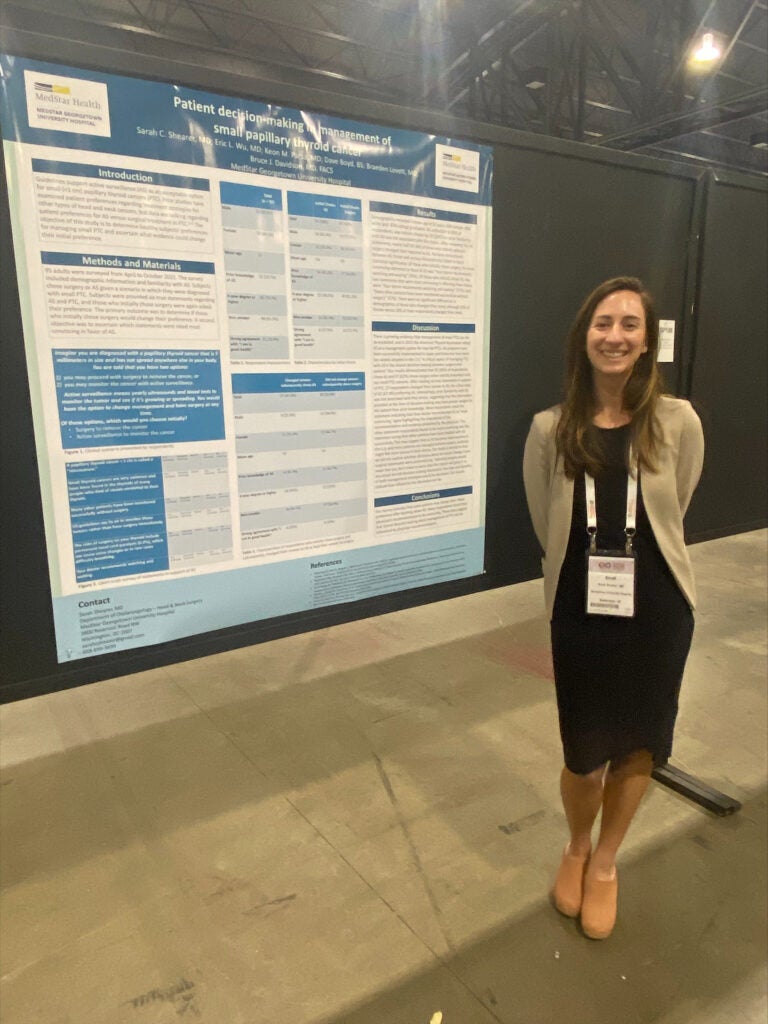 Our program has the advantage of access to research facilities at the National Institutes of Health and the Georgetown's Lombardi Cancer Center, a National Cancer Institute-designated cancer center.
Shout Out
---
Fellowship
---
The MedStar Georgetown University Hospital (MGUH) Otolaryngology-HNS Research Fellow position is currently an unfunded position for medical students who are interested in gaining more research experience prior to entering residency. It is a one-year position, although adjustments can be made for less or more time depending on a case-by case basis. The position is based at both the MGUH as well as the Washington DC VA Medical Center. The research fellow will work closely with Dr. Jessica Maxwell, who will oversee the research projects and timeline throughout the year. The research fellow is encouraged and expected to work with a variety of faculty members at MGUH, the VA, and MedStar Washington Hospital Center to gain experience in various subspecialties of Otolaryngology.
Over the course of the year, the research fellow is expected to conduct a number of projects, ranging from national database studies, single-institution retrospective studies, and cohort studies. The fellow will also have the opportunity to work with the Otologists on research studies through the NIH. Furthermore, there are opportunities to perform research on educational simulation, 3D modeling, and machine learning depending on interest and availability of active projects in those arenas.
If you are interested or have any questions, please contact our Research Coordinator Magalie Middeke.
---
Recent Publications
---
Crossley JR, Nelson LL, VanDolah H, Davidson BJ, Maxwell JM. The impact of COVID-19 on presentation and diagnosis of head and neck squamous cell carcinoma. Laryngoscope Investigative Otolaryngology. 2022 Aug 12. Epub ahead of print.
Crossley JR, Nelson LL, Chou J, Maxwell JM. Distant Metastases in HPV-related Oropharyngeal Squamous Cell Carcinoma: A Systematic Review and Meta-Analysis. Head & Neck. Accepted for publication 2022 Oct 12.
Habib AM, Johns JD, Hakimi A, Maxwell JH. Upper Airway Manifestations of Monkeypox: A Case Report and Literature Review. Journal of Laparoendoscopic & Advanced Surgical Techniques. ahead of print http://doi.org/10.1089/lap.2022.0473.
Johns, JD, Habib, AM, Dixit, RB. Retained tracheostomy stay suture with migration into the glottic airway: A case report. Clin Case Rep. 2022; 10:e06625. doi: 10.1002/ccr3.6625.
Johns JD, Mortazavi A, Welschmeyer A, et al. (October 03, 2022) Reliability of Home Sleep Apnea Testing for Diagnosing Obstructive Sleep Apnea in Patients With Spontaneous Cerebrospinal Fluid Leaks. Cureus 14(10): e29854. doi:10.7759/cureus.29854.
Lovett B, Welschmeyer A, Johns JD, Mowry S, Hoa M. Health Disparities in Otology: A PRISMA-Based Systematic Review. Otolaryngology Head Neck Surg. 2022 Jun;166(6):1229-1237. doi: 10.1177/01945998211039490. Epub 2021 Sep 7. PMID: 34488507.
Missner AA, Johns JD, Gu S, Hoa M. Repurposable Drugs That Interact with Steroid Responsive Gene Targets for Inner Ear Disease. Biomolecules. 2022 Nov 5;12(11):1641. doi: 10.3390/biom12111641. PMID: 36358991.
Parsa KM, Hakimi AA, Hollis T, Shearer SC, Chu E, Reilly MJ. Understanding the Impact of Aging on Attractiveness Using a Machine Learning Model of Facial Age Progression. Facial Plastic Surgery & Aesthetic Medicine. Accepted March 5, 2023; pending publication. 
Walsh A, Peesay T, Newark A, Shearer S, Parsa K, Pierce M, Gao WZ. Association of Severe Tongue Edema With Prone Positioning in Patients Intubated for COVID-19. Laryngoscope. 2022 Feb;132(2):287-289. doi: 10.1002/lary.29773. Epub 2021 Jul 31. PMID: 34287907; PMCID: PMC8441932.
Wu EL, Peesay T, Randall JA, Nelson LL, Shearer SC, Johnson BC, Maxwell JH. Increased body mass index predicts prolonged survival in patients with head and neck squamous cell carcinoma. Head Neck. 2022 Feb;44(2):325-331. doi: 10.1002/hed.26922. Epub 2021 Nov 12. PMID: 34773312.
Shearer SC, Parsa KM, Newark A, Peesay T, Walsh AR, Fernandez S, Gao WZ, Pierce ML. Facial Pressure Injuries from Prone Positioning in the COVID-19 Era. Laryngoscope. 2021 Jul;131(7):E2139-E2142. doi: 10.1002/lary.29374. Epub 2021 Jan 5. PMID: 33389768.