Jonathan P. Giurintano, MD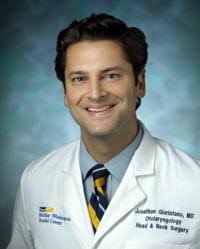 Assistant Professor, MedStar Georgetown University Hospital
Department of Otolaryngology – Head and Neck Surgery
Georgetown University Hospital Gorman Building 1st Floor
Office: 202-444-8186
Washington Hospital Center Suite GA-4
Office: 202-877-6733
Medical School: University of Mississippi School of Medicine (2012)
Residency Program: University of Tennessee Health Science Center (2017)
Fellowship Program: University of California Hospitals and Clinics (2018)
Special Interests: the reconstruction of complex defects created by the removal of cancers from the head and neck, accessing tumors of the parapharyngeal space, and exploring new corridors for endoscopic approaches to the skull base
Jonathan Giurintano, MD, is a board-certified otolaryngologist at MedStar Washington Hospital Center and MedStar Georgetown University Hospital. As a specialty-trained head and neck cancer surgeon, Dr. Giurintano forms part of a multidisciplinary team that offers tailored treatment to patients diagnosed with tumors of the head and neck. He is trained to work alongside neurosurgeons to access tumors of the anterior cranial fossa (pituitary region) through the nose using minimally invasive endoscopic techniques. He is also trained in the reconstruction of head and neck surgical defects using local, regional, and microvascular "free" flap techniques. Additionally, he is trained in using sialendoscopy for the minimally invasive removal of stones from the salivary ducts and robotic surgery for tumors located in the back of the throat and voice box.
Dr. Giurintano received his medical degree from the University of Mississippi School of Medicine. He then completed internship and residency training in Otolaryngology – Head and Neck Surgery at the University of Tennessee Health Science Center followed by a one-year fellowship in head and neck surgical oncology, anterior skull base surgery, and microvascular reconstruction at the University of California – San Francisco Medical Center.
Dr. Giurintano is dedicated to providing comprehensive surgical care of the head and neck, and he is excited to bring an innovative skill set to the Washington, DC, region. He values the use of minimally invasive techniques when possible in order to minimize operative morbidity, decrease hospital length of stay, and increase patient quality of life in the post-operative period. He is passionate about working closely with his colleagues in the Departments of Otolaryngology – Head and Neck Surgery, Medical Oncology, and Radiation Oncology at MedStar in a multidisciplinary setting so that his patients can receive the highest quality of care from a team of trained experts.