School of Medicine
---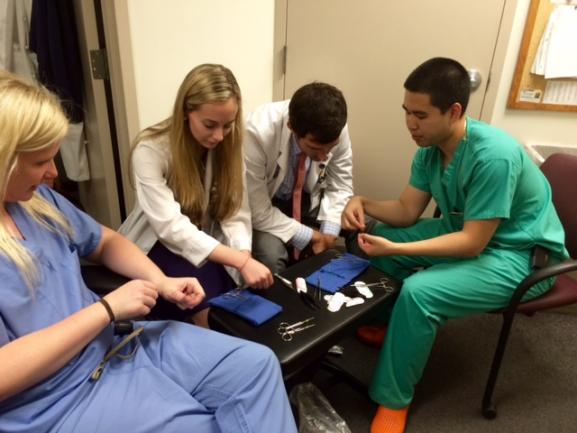 ---
Junior Clerkship (3rd Year)
The Department of Otolaryngology – Head and Neck Surgery provides a variety of programs to medical students. Clinical conferences on selected topics correlated with basic science instruction are given in the pre-clinical curriculum. Third-year students may select a two-week clerkship in the department as partial fulfillment of the six-week requirement in the surgical subspecialties. During this clerkship, students participate in a broad range of otolaryngology services, including surgical, inpatient, and outpatient management. Specialized skills in head and neck physical examination will be stressed.
Senior Clerkships (4th Year)
Otolaryngology Acting Internship Elective: OTOL-500
Department: Otolaryngology – Head and Neck Surgery
Instructor: Nazaneen E. Grant, MD
Contact: Magalie Middeke (Program Coordinator) at magalie.karin.middeke@gunet.georgetown.edu
Locations: Georgetown University Hospital, Washington Hospital Center, and Veterans Affairs Medical Center
Duration: Four weeks
Max Students: 4 students/block
Description:
The Department of Otolaryngology-Head and Neck Surgery offers a four-week acting internship elective to fourth year medical students. Students spend the majority of their time at MedStar Georgetown University Hospital and also do a 1 week rotation at the MedStar Washington Hospital Center. The rotation provides the student with a broad exposure to both the clinical and surgical aspects of the specialty through work with specialists in pediatrics, rhinology, plastic/reconstructive surgery, otology/skull base surgery, laryngology, trauma, and general otolaryngology. Students assist in the operating room and work with the attending staff and residents in clinic to gain experience in performing complete head and neck examinations, obtaining focused histories, and formulating differential diagnoses and treatment plans. Leadership and teaching skills in guiding 3rd year medical students on the team are also encouraged. Students take part in inpatient rounds and, under direct faculty and resident supervision, share in the responsibility of caring for hospitalized patients. At the end of the rotation, the students give an in-depth presentation on a topic in the field of Otolaryngology – Head and Neck Surgery.
The Otolaryngology 4th year elective is open to visiting students who are considering Otolaryngology – Head and Neck Surgery as their career. Each 4 week block has a maximum of 4 students. Georgetown medical students are given priority over visiting students until 6 weeks before the start date of the rotation.
Georgetown students wishing to do this elective need to have filled out our departmental application (see link below) AND need to meet with Dr Grant (ENT Clerkship Director) in person.
Visiting students wishing to do this elective need to submit TWO applications – one through our department, (see link below) which is available now, and ADDITIONALLY apply on the VSAS/VSLO system. The VSAS/VSLO system will not open until April 1st, 2023, however you can complete the departmental application now using the link below.
To apply, please fill the application in the link below, and send a copy of your CV to Magalie Middeke, our Program Coordinator, magalie.karin.middeke@gunet.georgetown.edu.
Note: The VSLO application for Georgetown University is expected to open April 1st, 2023.
2023 Georgetown 4th Year Block Schedule:
Block 1: 7/3/23 – 7/30/23
Block 2: 7/31/23 – 8/27/23
Block 3: 8/28/23 – 9/24/23
Block 4: 9/25/23 – 10/22/23
Medstar Georgetown University Hospital Underrepresented in Medicine Scholarship
The Department of Otolaryngology – Head & Neck Surgery is offering up to $1500 away rotation scholarships to students who are underrepresented in medicine, as defined by the AAMC. Student may use this scholarship to offset any expenses that are associated with participating in our 4th year medical student away rotation, which is a four-week elective rotation. As a department, we are committed to developing a diverse physician work force by supporting underrepresented minorities who are pursuing Otolaryngology.
Grant Eligibility
Underrepresented in Medicine (URiM), as defined by the AAMC criteria.
Fourth year medical student in good academic standing at an LCME-accredited, allopathic medical school.
Complete a formal application through VSLO (formerly VSAS).
Complete a departmental application, a link to which is on our 4th year away elective website: https://ent.georgetown.edu/school-of-medicine/
---
Pediatric Otolaryngology: OTOL-502
Department: Otolaryngology
Instructor: Earl Harley, MD
Contact: Nazaneen Grant, MD at nazaneen.grant@gunet.georgetown.edu
Location: Georgetown University Hospital
Duration: Four Weeks
Max Students: 1 student/block
Description:
The Department of Otolaryngology – Head and Neck Surgery offers an elective that concentrates exposure in the field of pediatric otolaryngology. This rotation is best for students planning to pursue pediatrics or family practice with a desire to deepen their knowledge and perfect their examination skills for head and neck problems in children.

Particularly emphasized are careful examination of the ear, management of chronic otitis media and hearing loss, evaluation of obstructive sleep and feeding problems, indications for tonsil surgery, management of congenital disorders of the head and neck, and special consideration for syndromic patients.

The student will work with two fellowship-trained faculty members as well as the resident team, and exposure to audiology is also available. A range of experience is offered in outpatient clinics at Georgetown and at a satellite location in Maryland. In addition, the student will be able to participate in surgery and with the care of hospitalized patients. At the conclusion of the elective, the student will be responsible for a short presentation on a topic in pediatric otolaryngology of his or her choice.
Interested students should email the contact above. Rotations are generally offered in the spring semester. Students who would like to pursue otolaryngology as a field are encouraged to apply for the General Otolaryngology Acting Internship, OTOL-500.