Nazaneen Nicola Grant, MD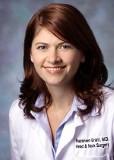 Assistant Professor, Department of Otolaryngology

Georgetown University Hospital Gorman Building 1st Floor
Office: 202-444-8186
Washington Hospital Center Suite GA-4
Office: 202-877-6733
Specialty: Laryngologist
Medical School: State University of New York at Buffalo, 2002
Internship Program: Georgetown University Hospital, 2003
Residency Program: Georgetown University Hospital, 2007
Fellowship Program: St. Luke's – Roosevelt Hospital Center, 2008
Special Interests: Awake Laryngeal Procedures, Botox for Spasmodic Dysphonia, Hoarseness, Laryngology, Laser Removal for Throat Cancer, Respiratory Papillomas, Swallowing Disorders, Throat Disorders, Voice Disorders, Voice Management
Nazaneen Grant, MD, is a board-certified, fellowship-trained laryngeal (voice box) specialist. Her expertise includes hoarseness evaluation and voice disorders, vocal fold paralysis and paresis, subglottic stenosis, swallowing disorders, and growths in the voice box including polyps, cysts, phonotraumatic lesions, papillomas, and early cancers.
Dr. Grant has special training in Botox for spasmodic dysphonia, laser surgery in the voice box, and awake procedures that include vocal fold paralysis rehabilitation and managing professional voice.
Her research interests include laryngeal papillomatosis, Parkinson's-related voice and swallowing issues, and laser effects on the larynx. She teaches residents and medical students at MedStar Georgetown University Hospital, creates hands-on laryngeal workshops and surgical simulation, and received the Resident Teaching Award in 2013.
Dr. Grant speaks Spanish fluently and volunteers to improve otolaryngologic care in South America.