H. Jeffrey Kim, MD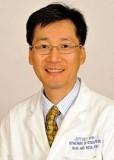 Professor, Department of Otolaryngology
Georgetown University Hospital Gorman Building 1st Floor
Office: 202-444-8186
Specialty: Neurotology, Otology, Pediatric Otolaryngology
Medical School: University of Cincinnati, 1990
Internship Program: Baylor College of Medicine, 1992
Residency Program: Baylor College of Medicine, 1996
Fellowship Program: University of Virginia Health Sciences Center, 1997
Clinical Interests: Acoustic Neuromas, Cholesteatoma, Cochleal Implants, Hearing Loss, Otosclerosis, Pediatric Otology, Pediatric Otolaryngology
H. Jeffrey Kim, MD, has been a faculty member at Georgetown University Medical Center since 1999. Dr. Kim graduated from Massachusetts Institute of Technology and attended University of Cincinnati College of Medicine. He completed his residency in Otolaryngology – Head and Neck Surgery at Baylor College of Medicine and a Fellowship in Otology – Neurotology at University of Virginia Health Sciences Center. While serving as a co-director of Acoustic Neuroma and Skull Base Tumor Center, Dr. Kim is a part of multidisciplinary expert care team highly experienced in the full spectrum of surgical and non-surgical approaches to acoustic neuroma and skull base tumors. He is also a member of the medical staff at Veterans Affairs Medical Center in District of Columbia, and he participates in clinical research at the National Institute on Deafness and Other Communication Disorders, National Institutes of Health.
Dr. Kim's practice encompasses evaluation and treatment of ear, hearing, and balance disorders in adults and children. His specialty areas include genetic hearing loss, otosclerosis, cochlear implants, chronic ear infections, Meniere's disease, facial paralysis and tumors, congenital ear malformations, acoustic neuromas (vestibular schwannoma), glomus tumors, and other skull base lesions.
Dr. Kim has published numerous manuscripts and book chapters. His basic science and clinical research have been frequently presented at national and international meetings. He is board-certified in both Otolaryngology – HNS and Neurotology subspecialty. Dr. Kim is a fellow of the Triological Society, American Neurotology Society, American Academy of Otolaryngology ' Head and Neck Surgery, American College of Surgeons, and DC Metropolitan Otolaryngology – HNS Society. Dr. Kim has been listed in both the 'Best Doctors in America' and 'Castle Connolly's Regional Top Doctors' over the last several years.